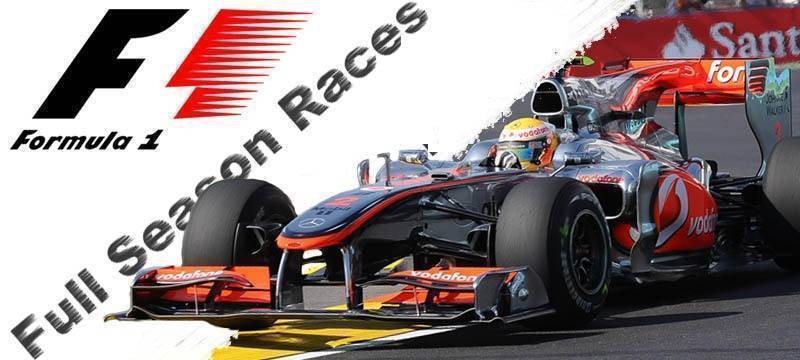 AYRTON SENNA RACE WINS DVD PACK
THERE ARE 41 FULL RACES IN THIS COLLECTORS BOXSET
BBC - MURRAY WALKER
AYRTON SENNA 41 WINS DVD PACK
THERE ARE 41 FULL RACES IN THIS COLLECTORS BOXSET.
THE RACES IN THIS BOXSET ARE AS FOLLOWS
41 FULL RACES / 41 DVDS
All wins for Ayrton Senna

All wins for Ayrton Senna


Grand Prix
1993: Grand Prix of Australia
1993: Grand Prix of Japan
1993: Grand Prix of Monte Carlo
1993: Grand Prix of Europe
1993: Grand Prix of Brazil
1992: Grand Prix of Italy
1992: Grand Prix of Hungary
1992: Grand Prix of Monte Carlo
1991: Grand Prix of Australia
1991: Grand Prix of Belgium
1991: Grand Prix of Hungary
1991: Grand Prix of Monte Carlo
1991: Grand Prix of San Marino
1991: Grand Prix of Brazil
1991: Grand Prix of the U.S.A.
1990: Grand Prix of Italy
1990: Grand Prix of Belgium
1990: Grand Prix of Germany
1990: Grand Prix of Canada
1990: Grand Prix of Monte Carlo
1990: Grand Prix of the U.S.A.
1989: Grand Prix of Spain
1989: Grand Prix of Belgium
1989: Grand Prix of Germany
1989: Grand Prix of Mexico
1989: Grand Prix of Monte Carlo
1989: Grand Prix of San Marino
1988: Grand Prix of Japan
1988: Grand Prix of Belgium
1988: Grand Prix of Hungary
1988: Grand Prix of Germany
1988: Grand Prix of Great-Britain
1988: Grand Prix of the U.S.A. (Detroit)
1988: Grand Prix of Canada
1988: Grand Prix of San Marino
1987: Grand Prix of the U.S.A. (Detroit)
1987: Grand Prix of Monte Carlo
1986: Grand Prix of the U.S.A. (Detroit)
1986: Grand Prix of Spain
1985: Grand Prix of Belgium
1985: Grand Prix of Portugal
March 21st – birthday of one of the greatest Formula 1 drivers of all time: Ayrton Senna. In this post we will be looking back at the career of Senna, asking why was he so great, and rewriting some of the classic quotes spoken by the Brazilian, who would have been 50 today. Senna remains the most recent Grand Prix driver to die at the wheel of a Formula One car.
Career
Early Career
Ayrton Senna da Silva was born in Sao Paulo, on March 21st, 1960. His racing career started at the age of 13, when, like how most racing drivers have started their careers, he started karting. In 1977 he won the South American Kart Championship, and finished runner up in the Karting World Championship in 1979 and 1980.
A year later, Senna moved to England where he began single-seater racing to race Formula Ford 1600 for Ralph Firman and his Van Diemen team. 1980 saw him win both of the series that he contested – the RAC and Townsend-Thoreson Formula Ford 1600 Championships.
In 1981, Senna Ayrton announced his retirement due to a lack of sponsorship funds, stating that a bad driver with money could always get the best car but a good driver without the same was left out. He headed home to Brazil to take up a role in the family building supplies business.
However Senna's passion for racing continued, and he managed to get the funds (£10,000) from his father and a Brazilian bank to go racing for another year. It was worthwhile too, as 1982 saw Senna win the 22 races and the British and European Formula Ford 2000 championships.
The final rung of the ladder for Senna before Formula 1, was the 1983 Formula 3 championship. Senna was up against tough competition for the title in the shape of Brit Martin Brundle. Senna dominated the first half of the season, but Brundle fought back later on. It came down to the final race of the season at Thruxton. Senna took pole and the win, meaning he was Champ! He also won the inaugural Macau Grand Prix, and that's when Formula 1 dreams, became a reality.
Formula 1
Ayrton tested for a plethora of teams; Williams offered him his first test and then he received an offer to try out for the illustrious McLaren squad but neither had a free cockpit so it was with Toleman where the Brazilian got his big break and debuted for in 1984.
The car was slow and unremarkable but Senna soon grabbed the spotlight and his talent was clear for all to see.
Surprisingly, Senna managed to finish 6th and score his maiden F1 point at only his second Grand Prix at South Africa. It was a result he copied at the next round at Belgium.
What made the F1 world first sit up and pause for thought was at the Monaco Grand Prix that year; while Prost and Lauda were fighting the title, Senna took advantage of the wet race to showcase his skills. It was a chaotic race, the narrow streets in the wet proving to be an incredibly tough environment but it could only disadvantage those at the front while the ones at the back tried to use this unusual and rare opportunity. Senna took full advantage and began to move through the field. He was soon into a superb second place –even passing Niki- and was catching the Frenchman Prost. He began to cut four seconds per lap out of the race leader's time and soon took the lead but on the very same lap (32) the red flag was shown and the rules stated that in the event of a red flag the positions of the previous lap would be the recorded results.
This meant that Ayrton wound up an impressive second and had obtained his first podium but he was privately livid at the result believing that FIA president Balestre was favouring his country man and title-protagonist. This would be the beginnings of a bitter and consuming rivalry between Ayrton and Alain, it was also not the last time Ayrton would find himself fighting against the President's ruling either.
Senna managed to work himself up to the bottom step of the podium at Britain, after four retirements and a suspension from the Italian Grand Prix for breaking his contract with Toleman by signing for Lotus, he achieved another third place at Portugal and finished the season thirteenth overall in the driver standings.
Senna jumped at the chance to race for a more competitive and historical team, Lotus, for the next season and it was here that he would really begin to establish himself as a serious threat for the championship. Renault may have been scaling back their efforts at this point but they still supplied Lotus with a decent turbo unit to challenge for wins with.
However, The JPS Lotus-Renault relationship didn't get off to the ideal start when the season opened as the Sunday afternoon outing was ended early due to retirement thanks to an engine electronics failure.
Ayrton Senna would claim his first pole position with relative ease at the next race in Estoril. The conditions were soaking wet to say the least, but the young Brazilian was leading his first Grand Prix and made the best of the moment. On lap four he posted a time that was 10.353 seconds quicker than his teammate de Angelis. Senna would go on to lap his fellow Lotus driver, he was also 1:02.978 seconds ahead of the second-placed Alboreto who was the only pilot who could stay on the same lap as Senna.
The head of the squad, Warr, was seen doing a dance to show his jubilant mood. Interestingly, Senna noted that the conditions were much worse than Monaco; perhaps this was just a general comment or was the new race winner still convinced he should have attained his maiden win a year earlier?
Another win would be added at Belgium, but when Elio de Angelis tasted champagne at Imola it was clear the relationship was beginning to deteriorate, despite the fact they had once holidayed together. Elio was convinced that Senna was galvanizing the team around him so he would depart for Brabham, not wanting to play second fiddle.
In 1986, Senna was leading the championship after just two races one of which he won from Mansell by just 0.014s at Spain. Senna's bitter feud of Prost is often the centre of focus but on more than one occasion these two found themselves scrapping it out. Mansell may not have been in the same league as Senna but he did have enough bravery to try to challenge Ayrton like he did at Detroit later in the season.
Senna managed eight poles, one more than the previous season, but reliability wasn't on his side and his title campaign soon began to slip away from him. 1987 was an important year for the hopeful driver as Lotus switched to Honda power.
Throughout the course of the season a strong relationship was built between the two, so much so that Honda would follow Ayrton to McLaren the next year and would help him on his way to the championship.
Once again, Senna seemed to lack momentum at the start of the year to see him through. Out of the first three races he suffered two retirements (one at Belgium where he collided with an unhappy Mansell who would later catch up with him in the pits) and only one podium.
He showed his savvy round the street circuits of Monaco and Detroit to claim two victories. Although Lotus could get him to the top of the podium it was never often enough and there were far too many reliability issues, so it was announced that Ayrton Senna da Silva would be racing for McLaren in 1988.
Lotus were not only losing their star driver but was enduring a messy breakup when their car was disqualified for having wider brake ducts than allowed. It was not a fitting end to a partnership that had gave Ayrton his first win.
McLaren had the formidable Honda power, it was a team that knew how to win but it also came with Alain Prost and it was clear Senna wasn't interesting in making friends but solely to defeat Alain.
This became frighteningly obvious at Monaco; Senna was leading fairly comfortably but news that Prost was starting to catch him on the tight and twisting street course scared Ayrton into ramping up the pace. He was pushing too hard though and almost inevitably, he crashed.
It was a mistake Ayrton would rue for the majority of his career and one that caused him a lot of torment. Portugal was blighted by an incident with Prost; when he tried to take the lead Senna swerved to block him. This forced his teammate right up against the pit wall at 180mph but Prost wouldn't relent and he kept his foot in it and was able to cling on and take the lead. Senna was lucky to get away with only a warning from the FIA.
At Monza, Prost knew early on he had issues with the car and would never make the finish so he began to set a remarkable pace. Senna was once again determined to prove he was the fastest and duly responded even though it was a highly unusual move for Prost who was renowned for being a clever driver more than a fast one. Alain retired as he knew he would while Ayrton had been tricked and was running out of fuel. He ended up tenth while the Ferrari's romped to a 1-2 finish. He would end the season with eight wins and take his first of three titles. He went to a new team, took on an established champion and won in a less than perfect season.
Senna was desperate to defend his title from his bitterest rival in '89; things between the two just intensified more through the year particularly at Imola where Senna overtook Prost at the restart, a decision which Prost claimed went against a pre-race agreement.Prost was showing great consistency and crashes and reliability problems were costing Ayrton once more.
At Estoril, Mansell was given the black flag for reversing in the pit lane but he either didn't see or chose to ignore it and carried on with his race. Nigel engaged in a fierce on-track battle with Ayrton only for it to end in a crash and suffice to say Senna wasn't happy with the outcome.
In the penultimate round at Suzuka, Ayrton had to win if he had any hope of becoming a double world champion that year. When Senna tried to pass the other McLaren for the lead, Alain shut the door and the pair collided. Senna waved his arms frantically about, the marshals gave him a push and he took to the escape route to rejoin the race. A pit for a new nose was required and when his race resumed, Ayrton was spitting blood. His fury spurred him on and he stole the lead from the Benetton of Nannini.
The FIA soon shot down Senna's hopes of carrying on to fight for the crown when he was promptly disqualified for cutting the chicane after the collision, and for crossing into the pit lane entry. Senna was left devastated with the FIA and its then President Balestre.
Head of McLaren Ron Dennis went on to release a statement not long after while Ayrton held a press conference where he defiantly said "I refuse to walk away from the fight".
Prost took his crown and headed for Ferrari after growing tired with the constant fighting with Ayrton. Gerhard Berger partnered Ayrton at McLaren making it a straight swap with Prost and their teams. This new coupling wouldn't set the world alight in the same way but it was often remarked that Berger taught Senna to laugh. It was a more human pairing and probably better for McLaren's image after the controversy of the last two years.
Ayrton got the best possible start to his season with a victory at Pheonix and entertained the audience with a little fight with the plucky Alesi but Senna eventually got the job done.
Prost was once more in contention for the title and claimed his first win for the team in red at Senna's home Grand Prix after the McLaren man collided with back-marker Nakajima.
In a reversal of the previous year, it was Prost who had to win at Suzuka to stay in contention for the driver's title. Senna qualified on pole but had asked to start from second so he was not on the dirty side-the request was denied by Balestre. Unsurprisingly, Prost who started second took the lead at the start but Senna refused to take no for an answer and stuck to the inside refusing to back off. Senna rather aggressively held his line and predictably the McLaren ploughed into the Ferrari at over 170 mph. It was a highly dangerous end to the championship but it gave Senna his revenge and the title.
Ferrari was at the start of a serious downfall in performance in '91 and it wasn't until mid-season when Mansell at Williams emerged as a contender. It resulted in some exhilarating moments like at Spain where the two cars went wheel to wheel.
Then at Britain, Mansell sportingly offered Senna a lift to the pits when Senna's McLaren stopped.
Honda and McLaren stepped up their game late in the season to take advantage of Williams early reliability woes. It would pay dividends when at Suzuka Mansell had to win but he found himself in the gravel trap.
Senna handed first to his teammate Berger as a thank you for his friendship and support to the title. The McLaren wasn't the beast it once was in 1992. The Honda unit wasn't the best and the red and white car lacked active suspension. It was never a real threat to Williams but he managed three wins and fourth overall behind the Williams duo –Mansell and Patrese-and rising star Michael Schumacher.
It was unknown if McLaren would return to form for '93 and Williams looked like it could once again be the team to beat. When Prost signed for Williams though he blocked Senna from trying to join and although the Frenchman could hardly be blamed it infuriated Ayrton.
Senna carried on at McLaren but was less than thrilled with the outcome. McLaren were forced to take a customer Ford V8 engine supply rather than the desired Renault V10 block but although it lacked power, McLaren had built a sophisticated machine with some potential but it was still much inferior to the Williams. Senna signed a deal on a race-by-race basis.
He could still get the wins though and his most dominant was at Donington. He made an early mistake fell to fifth by the time he really even set off but by the end of the first lap was leading and at the end had lapped the entire grid.
He took two victories at the end of the season and he saw out the year with style when in the penultimate round he punched Eddie Irvine after the Irishman had unlapped himself from Senna.
Prost took his fourth title while Senna finished second overall and this was to be his last season at McLaren. He had taken 50% of the championships he had participated in with the outfit but he needed a competitive drive. With Prost retiring for good as he could no longer block Ayrton from joining him at Williams, Senna was free to make the switch after a long wait.
The FW16 didn't have the superiority of its predecessors however as electronic driver aids were banned the car was acknowledged as being tricky to handle.
Schumacher took the lead at Brazil but Senna was dogged in his pursuit. He refused to give up but again pushed far too hard and ended up spinning out.
At the Pacific Grand Prix, Hakkinen crashed into Ayrton making it his worst ever start to a season.
The third round was at San Marino and the weekend was plagued by incidents. At Friday practice, Rubens Barrichello crashed heavily into the tyres at Variante Bassa chicane and swallowed his tongue. He also sustained a broken nose and arm.
The next day in qualifying Roland Ratzenberger was killed when the front wing broke in his Simtek-Ford while going flat through the fast Villeneuve left-hander bend and the car slammed into the concrete wall.
After this terrible incident, Senna was determined to improve safety standards and sought out his fellow drivers to recreate a Drivers' Safety group and offered to lead the group as the most senior driver on the grid.
Every driver agreed to take part in the race but the race was soon under safety car conditions when there was a start line incident with JJ Lehto's Benetton-Ford which stalled, and Pedro Lamy crashed into him in his Lotus-Mugen Honda at high speed.
A wheel was ripped off and landed in the grandstand, injuring 8 fans and a police officer.
After the restart Ayrton was setting a good pace. On the next lap Senna entered the high-speed Tamburello corner but the car veered off and left the track at high speed. The Williams hit the concrete wall at approximately 135 mph.
Senna was removed given treatment by the side of the car before being airlifted to Bologna hospital. It was here where the 34 year old Senna was later declared clinically dead.
The exact cause of the incident is still unknown.
When the car was examined by track officials they found the Williams was carrying the Austrian flag-Senna was going to raise it in honour of Austrian Ratzenberger who had died the previous day during qualifying.
Why was Senna so great?
Senna is quite possibly the only name that can rival Schumacher for popularity. He's still beloved even now. His death elevated him to the stuff of legend (and has perhaps made him more adored) but even before that it was well known he was something special.
His special trick was his speed over one lap. His qualifying was remarkable, he claimed 65 pole positions and it was a true reflection of Ayrton's desire to be the quickest thing on land. He may be one of the greatest but with Clarke, he was certainly one of the quickest racers ever.
He claimed 41 victories and it took Michael Schumacher years to match his record and when he did in 2000 it resulted in emotional scenes.
He had an aurora of unbridled genius and was consumed by his passion for the sport while showing some truly human moments. At the Belgian Grand Prix qualifying in 1992, Comas crashed heavily and Senna leapt out of his car to offer assistance. He later went to visit the F1 driver in hospital.
It was an incredible moment and perhaps ironic when Senna occupied himself with highly dangerous antics with Prost. While there is no doubting his concern for the safety of others in crashes, he was far too willing to put others in danger for his own ambitions. He set an example of crashing to win the title and while he passion can be understood, such actions must never be excused.
He was a remarkable driver who always went further than everyone else. His death has probably heightened the sense that he was a driving superstar but at the heart of all the fervour was a man who lived and breathed racing, had blistering speed, could master any conditions and had an astonishing feel for his equipment but sometimes let his heart rule his head to the detriment of his results. If a little more care had been taken at times with a little less urgency, his results would surely be greater but that's part of Ayrton's charm; he just wanted and had to be the quickest.
Quotes
Senna was a highly intelligent character, and that showed through in some of his quotes:
On winning
"Of course there are moments that you wonder how long you should be doing it because there are other aspects which are not nice, of this lifestyle. But I just love winning."
"You must take the compromise to win, or else nothing. That means: you race or you do not."
"Winning is the most important. Everything is consequence of that."
On coming second
"Being second is to be the first of the ones who lose."
"When you are fitted in a racing car and you race to win, second or third place is not enough."
On fear & death
"Fear is exciting for me."
"I want to live fully, very intensely. I would never want to live partially, suffering from illness or injury. If I ever happen to have an accident that eventually costs my life, I hope it happens in one instant."
"I don't know driving in another way which isn't risky. Each one has to improve himself. Each driver has its limit. My limit is a little bit further than other's."
"It's going to be a season with lots of accidents, and I'll risk saying that we'll be lucky if something really serious doesn't happen."
On the sport
"I was already on pole, then by half a second and then one second and I just kept going. Suddenly I was nearly two seconds faster than anybody else, including my team mate with the same car."
"These things bring you to reality as to how fragile you are; at the same moment you are doing something that nobody else is able to do. The same moment that you are seen as the best, the fastest and somebody that cannot be touched."
"It is important, when your technical equipment is not the best, to believe there will always be a better race; that is a part of my motivation."
On women
Women – always in trouble with them, but can`t live without them.
…and on Bruno
"If you think I'm good, just wait until you see my nephew Bruno."
If Bruno Senna is half as good as Ayrton suggests in the quote above, Hispania are on for a winner! I'm sure we are all in agreement when I say it is great to have the yellow and green helmet of a Senna back on the grid!
One thing's for sure: Ayrton, you will never be forgotten.