FULL SIZE FERRARI/SCHUMACHER FORMULA 1 GRAND PRIX CAR PICTURE
IT IS 6 PANELS OF 100CM HIGH X 70CM WIDE
TOTAL SIZE IS 4.2 METRES LONG BY 1 METRE HIGH
WE HAVE AVAILABLE AN INCREDIBLE FULL SIZE 4.2 METRE FERRARI F1 PICTURE
THIS PICTURE WAS USED AT THE PROMOTION BY VODAFONE IN THE U.K WHEN MICHAEL SCHUMACHER WON HIS 7TH WORLD CHAMPIONSHIP
THE PROMOTIONAL EVENT WAS CALLED "Michael Schumacher, Ferrari and Vodafone….not from this earth'
IT WAS AQUIRED DIRECTLY FROM MICHAEL SCHUMACHER'S MANAGER AT THE TIME (WILLI WEBER)
YOU WILL NEVER FIND ANOTHER ONE OF THESE ANYWHERE AS THEY WERE NEVER SOLD TO THE PUBLIC !!
THE PICTURES WILL BE TAKEN OUT OF THE INDIVIDUAL FRAMES AND SENT VIA INSURED COURIER
IT WILL COME IN A TIMBER FRAMED BOX TO GUARANTEE PERFECT QUALITY WHEN DELIVERED
PERFECT FOR ANY SERIOUS F1,SPORTS MEMORABILIA OR SCHUMACHER/FERRARI COLLECTOR
JUST IMAGINE THIS ON THE WALL OF YOUR COLLECTORS ROOM OR MANCAVE/GARAGE
THIS PICTURE IS "SIMPLY AMAZING"
ORDER NOW OR MISS OUT ON THIS VERY RARE MICHAEL SCHUMACHER COLLECTABLE !!!!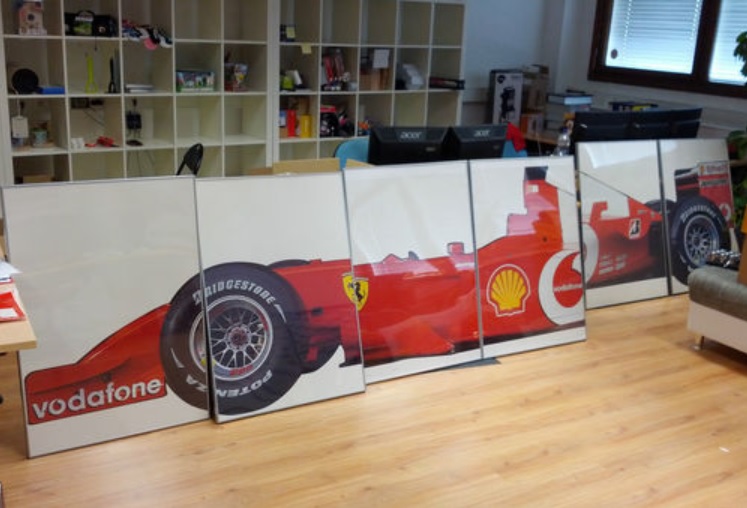 ---
OPTION 2
Full size 1 piece 4.2M X 1M
SCUDERIA FERRARI / MICHAEL SCHUMACHER
FULL SIZE PANORAMIC F1 GRAND PRIX RACE CAR PICTURE
(this design is slightly different from the 6 piece above as this has the Scuderia Ferrari logo with Michael Schumacher facsimile signature)

Total Size is 4.2m METRES LONG X 1 METRE METRE HIGH

This is exactly full size of the real car
Its superb

IT IS READY TO PUT ON THE WALL OR YOU CAN HAVE IT FRAMED YOURSELF

we also have a half size version (as seen below) of this available on another listing